The Mount Ward School Past Students Association was an idea first conceived in 1994, as a result of correspondence addressed to former students of Mount Ward Primary School from a parent whose children were presently attending the school. This parent and active member of the Parent Teachers Association, wrote a letter in an attempt to reach out and secure assistance for her children. Another letter was sent 1997, this one from the Principal of Mount Ward Primary School, Mr Orson Beckford.
These letters received by former student Mr. Lambert Watson, outlined the dire need for assistance for the school and its students. These pleas for assistance exuded a tone of urgency, prompting a swift call to action from a group of former students and friends.
Preparations were made and in July of 1997, the first formal meeting of the past students was held at the home of Ms. Carmel Atkins. At this meeting, the 6 former students and 1 supporting friend in attendance who all shared a similar passion and vision, resolved to answer these calls for help. Thus, the Mount Ward School Past Students Association was born.
The objective of the newly formed association was to respond to the initial appeals made by the school`s Principal and parents, by providing financial and educational support as well as structural aid for the student body and staff members.
The Mount Ward School Past Students Association established an organizational structure, and assigned duties in order to carry out their goal. The first committee was duly elected and the members were appointed to various positions.
We acknowledge and thank our original association members, whose tireless efforts and devotion have touched the lives of a great many students and faculty.
MOUNT WARD SCHOOL PAST STUDENTS ASSOCIATION – July 1997
PRESIDENT:
Mr. Wes Simons
VICE PRESIDENT & SECRETARY:
Ms. Carmel Atkins
TREASURER:
Mr. Cliff Simons
PUBLIC RELATIONS OFFICERS:
Mr. Lambert Watson
Mr. Ashley James
SUPPORTING MEMBERS:
Mr. Alphanso Atkins
Mr. Earl Thompson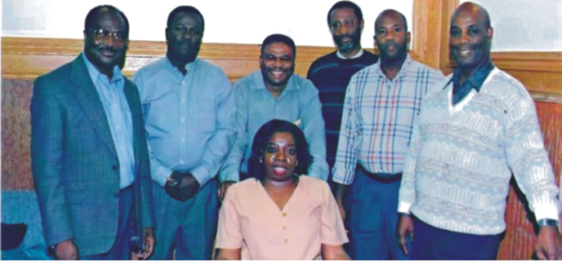 Back row, left to right: Mr Wes Simons, Mr Alphanso Atkins, Mr Earl Thompson,            Mr Cliff Simons, Mr Lambert Watson, Mr Ashley James
Front: Ms Carmel Atkins
Monthly meetings were held where the group strategized and initiated fundraising efforts. The first such endeavours included hosting barbecues and brunches. It is from these humble beginnings that the present day setting of the annual banquet developed. Membership in the association and all related efforts were, and continue to be, conducted on an entirely volunteer basis.
The association has endured its share of challenges over the years, most notably and tragically was the passing of founding member Mr. Ashley James. The group persevered however, and remained true to the vision and intentions that initially brought them together. To honour Mr Ashley James and his dedication to the cause, an annual scholarship is awarded in his name.
The Mount Ward Alumni Association has evolved and expanded over the years. The association now boasts a roster of 17 volunteer members and numerous supporters, including many of the original founding members and their families.
Thank you to our founding members for your vision, passion, dedication, and leadership. May we continue the noble work you started, as we proudly follow the example you have set for us.